---
---
From 23.03. to 25.03.18 the conference "Praxis of Critical Psychology in Germany and Turkey" will take place in Berlin. The first conference day is planned as an internal workshop day for the members of the associations involved in the organisation of the conference. The conference is organized by the 'Association of Psychologists for Social Solidarity' (TODAP / Turkey) and the 'Society for Subject Science Research and Practice' (GSFP / Germany).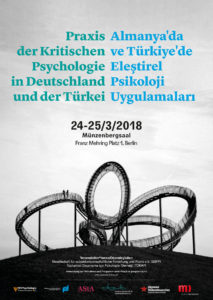 Program: Complete Program 23.-25.03.2018
The panels will be held in German and Turkish. Headphones for simultaneous translation are available at the registration counter. At the same time panels in English can be attended.
Booklet: Internal Workshop 23.03.2018
Booklet: Public Conference 24.-25.03.2018
Schedule: 23.03.18 9:30 am – 8 pm / 24.03.18 9:30 am – 8 pm / 25.03.18 10:30 am – 6:30 pm
Registration until 15.03.18 via e-mail: kontakt [at] kripsy.de
Registration is requiered to participate and to receive a pair of headphones at the counter. The registration will close when reaching the maximum numbers of participants!
Donation recommended: 10-50€ (Donation receipts can be handed out if required)
Members – students, practitioners, activists and academics – of GSFP and TODAP are planning and organizing the conference at no charge. In addition to the support of the institutions listed below we urgently rely on your financial support.
Banking account: Gesellschaft für subjektwissenschaftliche Forschung und Praxis (GSFP),
Berliner Sparkasse, IBAN: DE61 1005 0000 0190 6859 21, BIC: BELADEBEXXX, Subject: Konferenzspende
Location: Rosa Luxemburg Foundation, Münzenbergsaal, Franz-Mehring-Platz 1, 10243 Berlin
Save the Date: Read more (deutsch, english, türkçe)
GSFP: http://www.kritische-psychologie.de/
TODAP: http://todap.org/eng/who_is_todap.aspx?link=2
Supporters: The conference is organized in cooperation with Rosa Luxemburg Foundation and is supported by …